Almonds Thins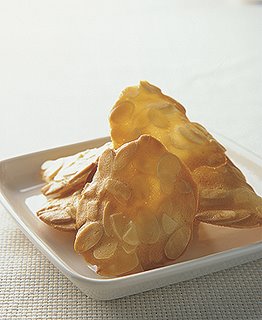 Preparation : 15 mins | Baking : 10 mins | Makes :15
Ingredients:
Icing Sugar --- 115 g
Plain Flour --- 25 g
Bread Flour --- 15 g
Egg Whites --- 100 g
Butter --- 70 g
Almonds (Sliced)--- 200 g
Directions:
Sieve the icing suagr, bread flour and plain flour together.

Mix egg whites into the flour mixture and stir well.

Melt butter in a pan and add into the flour mixture.

Add almonds into the mixture. Coat the baking tray with a layer of cooking spray or oil. Using the spoon, drop a tablespoon of the mixture onto the tray and spread it into equal size for even cooking. Leave equal spacing in between the cookies to ensure beautiful browning. Bake for 10 minutes for 150℃.

Tips:
To prevent the cookies getting "soggy", keep them in a air-tight container once they are cooled.